Susan of
Between Naps On The Porch
featured her 'faves' in a recent post and
Gina of
Renewed Spaces
did a feature on her
Favorite Things
in May 2011. It just happens that one of Gina's is also one of mine, Spray Paint Handle.
So, here are a few of my favorite things....in no particular order because they are all equally important to me as a DIYer.
#1 -
My 'go to' wax,
Howard's Citrus Shield Premium Natural Paste Wax
is always in my cupboard and it can be found on Amazon for $9.75. Such a deal!!!
#2 - Any and all brands of

Un-Sanded Grout

for my Homemade Chalk Paint Recipe but I must confess that recently, I have fallen for

DAP Plaster of Paris

and am now substituting it in my Homemade Chalk Paint Recipe. It is the perfect addition to flat latex paint and voila....chalk paint. I will be featuring a few of my furniture makeovers with my 'new' chalk paint in the near future...stay tuned!
Thx to

Scribbler

and

Mah

for bringing Plaster of Paris to my attention in your comments.
#3 -

Klean Strip
Easy Liquid Sandpaper deglosses surfaces much easier than sanding to help new finishes adhere to old finishes. Works on paint, varnish, enamel and stain and is great for kitchen cabinets, wood moldings and all types of furniture.
#4 -

Rub 'n Buff

is made from imported carnauba waxes, fine metallic powders, and select pigments. This unique blend gives objects decorated with Rub 'n Buff® a finish that no paint can duplicate! Available in 16 colors.
It's so easy to apply. Just rub onto any surface with finger or soft cloth, then buff to a beautiful luster. Rub 'n Buff® is ideal for: restoring cherished antiques, stenciling, frame finishing, antiquing, home decor, restoration and any and all craft projects.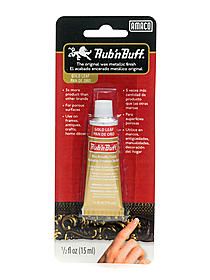 #5 - The original
Greased Lightning
formula is time-tested for superior cleaning and stain-fighting power. Greased Lightning conquers the toughest stains and can be used throughout the home. It cuts through grime, removes red wine, and helps pre-treat all of your tough laundry stains, including grease, grass and ink and so much more... Greased Lightning has a new look!!!


#6 -
Rustoleum Spray Grip
turns every spray can into a spray gun for a smooth, professional finish. The soft-touch trigger reduces finger fatigue, the locking collar keeps the can tightly attached and the safety lock keeps paint from spraying unexpectedly.
#7 -

Simichrome Polish

is an all-metal polish that can be used on any non-ferrous metal surface including brass, gold, silver, aluminum and stainless steel and it leaves a thinn protective coating to help prevent tarnishing.

As promised Simichrome Polish cleans brilliant to a shine....everytime!!!

#8
-
Goo Gone
is my 'go to' product for all of my sticky, gummy, greasy, gooey problems! Goo Gone can be used on hard surfaces, carpeting, upholstery, clothing, and more and helps me out all of my 'sticky' situations!!!

#9 - All of my favorite bloggers and there are far too many to name. Without their inspiration, DIY advice and support, I couldn't do this.
#10 - And finally, a fine glass of Savignon Blanc when I totally exhausted!!!
I'd love hear what your 'favorite things' are....