If you haven't already met Roeshel of The DIY Showoff, she is the beauty and brains behind one of the top DIY blogs in the bloggersphere! (Is that a word?)
Roeshel is a DIY enthusiast who loves to "
be creative about repurposing things, designing & decorating my spaces and getting crafty. I
love sharing our budget friendly DIY projects and tutorials. Lucky me – we have an entire farmhouse full of projects that will take us a lifetime to complete. I'm drawn to cottage style…the cozy vacation feel appeals to me and seems fitting for our big old farmhouse but mostly I just do what I love with a mix of styles. "To get something you never had, you have to do something you never did.'" Join me while I turn this farmhouse into our dream home and a blog into a career."
The DIY ShowOff is a member of the True Value DIY Blog Squad and FrogTape Blog Squad. She has been featured in This Old House, Country Living, House Beautiful, Cottage & Bungalows, Flea Market Style, and the list goes on....
You will find inspiration and tutorials at DIYShowoff Projects and Tutorials page ranging from basic a Chair Makeover to a very detailed guide for Painting and Glazing Furniture to Creative Storage Ideas. Her ideas and instructions are amazing!!!
Roeshel also hosts a weekly Linky party every Monday called DIY Project Parade where you can find some of the 'best' DIY projects on the web. You can find this week's parade @
DIY Project Parade
.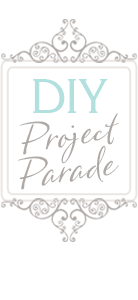 Roeshel also invites fellow DIYers to be featured on her blog with Show Off/ Be Featured section. "

You planned. You budgeted. You swore. You broke a nail. You put a lot of time, effort, sweat and tears, heart and soul into a project to create something fabulous – why not SHOW IT OFF? You deserve a little recognition!" You will find awesome makeovers, creative crafts, delightful decorating, home improvement ideas and so much more from DIYers everywhere.
"a blog dedicated to

show

ing it all

off

!"
Let me know what you think....