Have you ever received an email from a flash sale site like One Kings Lane or Joss & Main and thought, I can make that? Well, that's exactly what happened to me the other day when I opened The Gilded Age shop at One Kings Lane. I fell in love with the gorgeous, gold leaf bird silhouettes by Mirror Image Home.
"This gold leaf bird silhouette adds a glamorous touch to the bird's natural, delicate beauty. On oyster linen with espresso bamboo frame, the art is elegant and ready to hang." I LOVE them!!!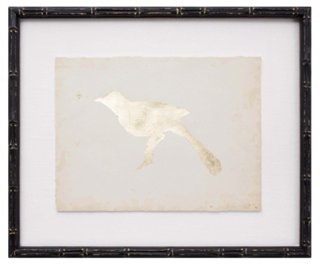 However, I didn't love the price!!!. The original retail was $360/silhouette and the flash sale price was $189. So like most DIYers, I decided try to make my own bird art.
My first stop was
The Graphics Fairy
to find the perfect bird silhouettes and I did....

My next step was to copy in black and white onto card stock and make stencils. I also decided that I wanted more of a rustic feel so I opted to use burlap instead of linen and silver leaf instead of gold leaf.
So, here are my tools....burlap, silver leaf and adhesive pen, 2 canvases and decorative tacks.
I adhered the burlap to the canvases with spray adhesive stapling it along the back edge utilizing my gift wrapping skills as shown below.
I then marked off the edges of each canvas in 1 inch sections and with my handy dandy rubber mallet taped in the decorative tacks.
My next step was to trace the silhouette on to the burlap and apply the silver leaf glue with the adhesive pen provided in the package. Now I must admit, silver leafing on burlap is a bit frustrating. I think I now know why my inspiration art was done on linen!
The entire project was a bit more time consuming than I had imagined but the bottom line is, I'm very pleased with the outcome. I especially like the rustic tacking and burlap coupled with the more sophisticated silver leaf.
Let me know what you think....