Last year at
ChristmasTime
, my darling daughter prepared the most beautiful and delicious cake pops. I surfed high and low in the bloggersphere to find cake pops that looked just as divine and as tasty!!!
Larissa Hill Designs
So, here they are....
The
UK BBC GOOD FOOD
delivers triple-tested recipes via the GOOD FOOD Magazine, the BBC GOOD FOOD blog and on the GOOD FOOD Channel. The holly inspired
Christmas Pudding Cake Pops
are a
"fantastic festive treat for kids and make an impressive centerpiece"
.
BBCGoodFood.com
BBCGoodFood.com
The Wedding Cake Blog
features Christmas Cake Pops decorated in snowflakes, snowmen and other winter-themed designs.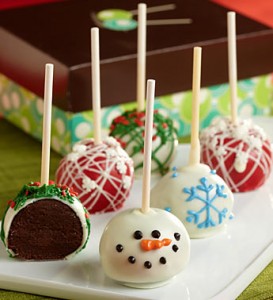 The Wedding Cake Blog
And you have to visit
The Cake Bomb
dedicated to all things Cake Pops...
And while at Bakerella, make sure to take a minute to see why Betty Crocker says that "No one does cake pops better than blogger and best-selling cookbook author Bakerella." Her whimsical and fanciful
Betty 10 Snowman Cake Pops
are perfect!!!
Betty Crocker
I'd love for you to share your cake pop secrets and pictures.
Let me know what you think...